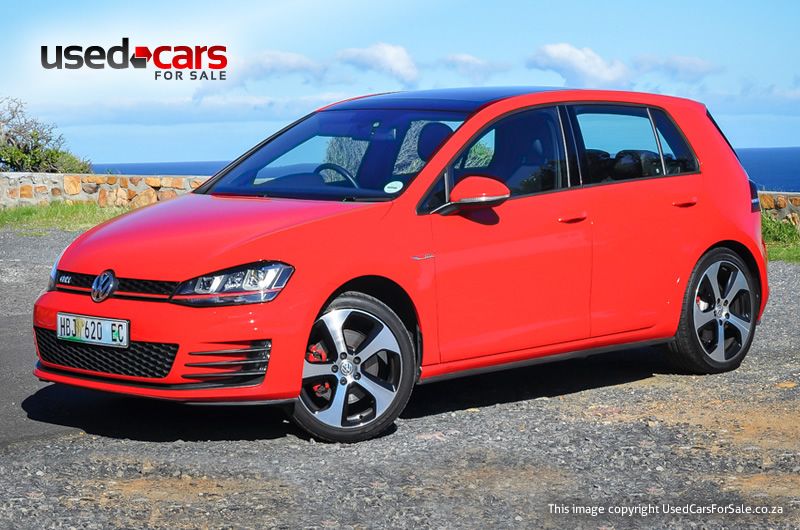 Volkswagen Golf Review: The Stuff Legends are Made of
12 December 2013 - Shawn Jooste
Overview
The Golf GTi is the stuff legends are made of. Boys dream of them until they can afford one, and never in the history of a performance hatch-back has a car become this iConic.

So now in its 7th generation, and the question begs: is the Golf 7 GTi as good as it should be? Is it still the performance hatch bench mark?
Performance
Under the bonnet you'll find a 2.0-litre 4-cylinder engine, much like the last few generations of GTi, except this GTi produces 162kW, which is the most we've ever seen from a GTi. In fact it's about 20kW off what the previous generation Golf R produced.

The Golf 7 GTi comes in two flavours, a 6-speed manual 'box or a 6-speed DSG box. We had the DSG 'box and it's hard to quantify, but VW really have perfected that DSG box, and coupled it to an outstanding performance engine.

Gear changes are hardly noticeable, and you always find yourself in the right gear. Part of the DSG setup is the flappy paddles behind the steering wheel, which add a very nice and fun driving dynamic.
Economy
The nature of replacing cubic cm with forced induction means that fuel economy benefits. When we tested the Golf 6 GTi Limited Edition, exuberant driving quickly pegged the fuel economy above 10 l/100km. In the Golf 7, it's one of the first things I noticed, that despite driving a hot hatch as intended, fuel economy managed to stay below the 10 l/100km mark.

When you're tootling around slowly (who does that in a GTi anyway), then the fuel economy becomes even more decent. The claimed combined cycle is 6.1 l/100kms, but if you do manage to achieve that, you probably shouldn't be driving a GTi.
Tech
The 7th generation GTi gets a bit of a beefing up on the inside too. In fact, the entire Golf 7 range gets a fancy new touch screen in the centre of the dash. Besides being touch operated, it can actually detect your finger moving closer and responds accordingly.

So for instance, if you're on navigation, all the optional on-screen buttons are hidden, but the minute you bring your hand close to the screen, they come out of hiding. Which is a cool trick.
Comfort
Sporty cars are not notorious for their comfort, but the Golf GTi plays that all rounder game far too well for it's own good. When you're hammering it round a mountain pass, the ride is rigid and grippy, but the GTi calms down to a comfortable town car just as easily.

You don't have any of that bumpy hard ride stuff going on, and you don't have any awkward moments trying to explain to passengers why they can feel every single bump in the road.

Apart from the ride, the interior comfort is excellent too. Seats are well shaped (you'd expect them to have that sorted by the 7th model), making them comfortable for long drives, but still hold you in place when you're applying some lateral Gs.
Practicality
The GTi really stands out for me as one of those all round cars. It's a good looking car, it's a good driver's car, yet it works as a practical family hatch too. Boot space is reasonable, rear legroom is good and the interior cabin is well laid out.

I believe that this is ultimately the GTi's biggest draw card. The fact that it can be such a great all rounder. Very few of us are in the luxurious position to own a car that accommodate the family, and then own a separate car that is a good driving car.

Having both in one affordable car is a great value proposition.
Conclusion
So, is it still the benchmark? Yes!

The Golf 7 is ridiculously well built, and there is nothing you can fault on the car (except the square rearview mirror).

It looks good, handles well, comes in at a good price point, well built, offers value as a family hatch as well as a driver's car, and carries with it a long pedigree of being a great hatch.

The Golf GTi should definitely be on anyone's list of family hatches, and it lives up to as the grand daddy of the previous Volkswagen Golf ranges which you can view here.