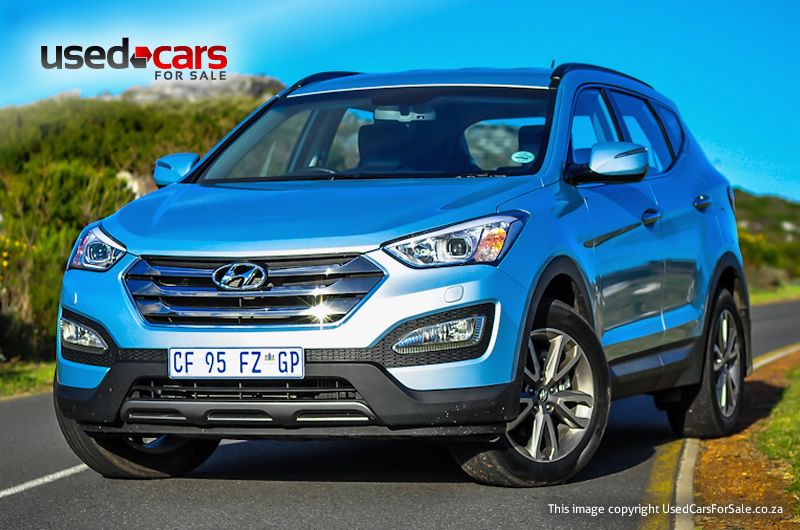 Hyundai Santa FE Review: The Hyundai SUV that Rivals its German Competition
23 September 2013 - Shawn Jooste
Overview
10 years ago I wouldn't have touched a Hyundai with a barge pole. But the Koreans have been hard at work, and what they've managed to give us now is quite brilliant.

We spent some time with the latest generation Santa Fe, the third generation to be exact. It's an SUV that cost nearly R500,000, and looks quite stylish.

What really stood our for us was all the small bits and pieces that show quality and attention to detail.
Performance
There are 3 versions of the Santa Fe, and all of them come with a 2.2-litre 4-cylinder turbo charged diesel engine. The 145kW produced by the 2.2-litre engine is just the right amount of power to pull the Santa Fe along.

It's not a performance vehicle, it's a family SUV that produces 436Nm of torque, which is ultimately what makes the difference. Climbing hills is a breeze and you're never left wanting for power.

The model we tested was a 4x4, and often in SUV's the 4x4 system slows the car down, and makes it feel just a little sluggish. The Santa Fe isn't entirely immune to that sluggishness, but it's fairly un-noticeable.

Mated to the 2.2-litre turbo diesel engine is a 6 speed auto 'box which is quite good in managing the gear changes, on the open road though an extra gear would have been nice though.
Economy
All 3 models in the Santa Fe range are diesels. That's how it manages to produce a torque figure of 436Nm.

Unfortunately the effects of the diesel are mitigated purely because the Santa Fe is quite a big car, and it requires a lot of fuel to get it moving. Of course the economy is a lot better than it would be if it was a petrol engine.

Claimed figures are 8.3 L/100km, but we managed to get closer to the 9.5 L/100km mark during our test.
Tech
This is where the Santa Fe really gets interesting. It's not often the dials and dash of a car strike me as gorgeous. The use of colour, and the placement of dials and info displays is just perfect, creating a very pleasant aesthetic appeal when you're in the drivers seat.

You've also got luxuries like Dual Zone climate control, and a cooling glove box, because we all need to keep the contents of our gloveboxes chilled.

Rear parking camera comes standard in the top of the range model, and the radio / CD player that can be controlled from the steering wheel also comes standard. Aux and Mini-Jack inputs come standard too, so plugging in your iPod isn't a hassle.

What is a hassle is trying to connect to Bluetooth, simply because there isn't any, which is a curious omission for a car that otherwise scores good points in the luxury and tech department.
Comfort
The Santa Fe is aimed at the premium family car market, and that's exactly the feeling you get when you're in it and driving it.

The ride quality is brilliant, steering is ridiculously light for a car of this size, and comes with 3 settings ranging from Comfort to Sport.

The seats are a great place to sit, and you could easily do a long distance trip in the Santa Fe.

Cruise Control is also standard, really setting the Santa Fe up as a premium family SUV.
Practicality
Of the 3 Santa Fe models, 2 are 7 seaters, and one is a 5 seater. We had the 7 seater on test, and with the back row of seats folded down, you have just short of 1000 litres of boot space, which is quite staggering.

With the rear seats folded out, it becomes a practical 7 seater able to usher the kids and their friends around without any hassle.

To provide some extra legroom and headroom, the Santa Fe is lower and wider than the previous generation.

The centre console is now classified as a storage box, and the doors have some very deep pockets, which continue with the theme of making the Santa Fe a practical family car.
Conclusion
Family SUVs cover such a broad scope in terms of their features, and their price. The Santa Fe definitely sits in the more premium space, but it's a long way off from the million rand German competitors in terms of price.

It delivers good value as a package, with a powerful yet economical diesel engine, some great tech, and a lovely comfortable practical cabin to drive around in.

The Santa Fe is a good family SUV, that doesn't compromise on quality, and is very good looking to boot.