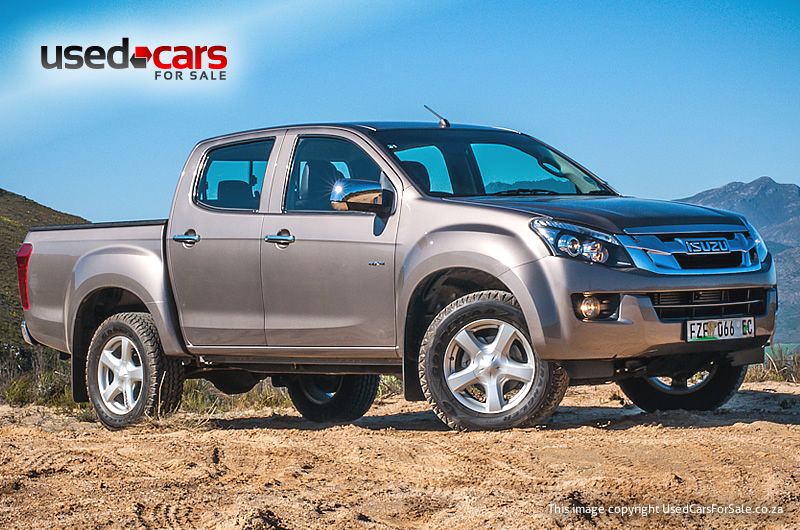 Isuzu KB Review: KB300 Double Cab - Bakkie Made for the Urban Driver
14 January 2014 - Shawn Jooste
Overview
Let's face it, bakkies in South Africa are a big deal. If you like beer, biltong and the Springboks, chances are you've got a double cab of sorts in the driveway.

So as you'd imagine, Double Cabs are coming off the farms and into suburbia, which means suddenly these work horses need some styling too.

The easy thing to do here is imagine that because the double cab looks cool, it's not as effective as it was on the farm, quite the contrary. Manufacturers are tasked with making their double cabs ever more useful in hard working situations, yet bringing appeal to them through styling.

We spent some time with the Isuzu KB300 Double cab, which is good looking and capable, but is it the one you'd buy?
Performance
The Double cab comes with a variety of engines, ranging from a 2.4 petrol up to a 3.0-litre diesel. The model we had on test was the KB-300 D-TEC LX. That's a mouth full but under the bonnet you'll find a 3.0-litre diesel engine, which produces 130kW and 380Nm of torque. It's got plenty of grunt then.

The gearbox is still a good old work horse gearbox, unlike the Amarok gearbox that feels more sedan than bakkie.
Economy
Claimed economy is 7.9 L/100km, which of course we weren't able to get to. We did sit quite comfortably under 10 L/100km, but of course the usage of the vehicle makes a huge difference to the economy. Open road fairs better than off road, and town driving seems to be a happy medium.

The diesel is more economical than the petrol though, claimed fuel economy on the 2.4-litre petrol variant does sit at 10.4 L/100km. So regardless of your driving style you're better off with the diesel variant anyway.
Tech
We tested the model that comes with the LX trip rather than the LE trim. It's really just the luxurious version, so it does come with a couple of extras that the LE doesn't have.

17" Alloy wheels are standard only on the LX, whereas ABS, EBD, BAS and a variety of safety features are standard on both LE and LX models.

Climate control, chrome rear bumpers, cruise control, and multi info display is limited to only the LX version.
Comfort
The ride in the KB300 is definitely a step up compared to bakkies from previous years. Without losing any of it's work horse ability, the KB300 works well as an urban runaround. You have regular seats, and a dash that is shared with a number of other GM cars, so while driving down the road day dreaming, you'll be forgive for forgetting that you're driving a large bakkie.

The power steering helps a great deal with making this bakkie drivable in town, and despite it's size, it's quite manageable in a parking lot.

Gear changes are still bakkieish, and not as sedan like as they are in the Amarok for instance, but it's easy to live with and really isn't much of a hassle.
Practicality
By definition a double cab bakkie is practical. You get to put 5 people in the front and a horse in the back. Ok, maybe not a horse, but you get my point.

The various KB double cab models come with a variety of payload sizes. So choose carefully which model you choose, but they are all within 100kg of 1ton, so unless you're very picky it doesn't matter that much.

Rear seating space is excellent, and comfortable, so getting a few kids or even some adults in the back will be a breeze.
Conclusion
The Isuzu scores a number of points in a number of areas. Firstly, can anyone remember the legendary KB280d? Yeah, they're built tough!

This is a serious upgrade in terms of styling and looks really good inside and out. GM have a pretty good track record for servicing their brands, so you're not likely to get stuck with a dealership.

The ride is good, and it's off-road/work horse capabilities are excellent, so all in all the KB300D is a good choice as far as bakkies are concerned.

What gets me though, is that the price difference between the KB240LE and KB300LX is almost R150,000. So you're paying R450,000+ for a new KB 300 LX, but as one of South Africa's best-selling bakkies, we don't mind buying, and you can find yours here.