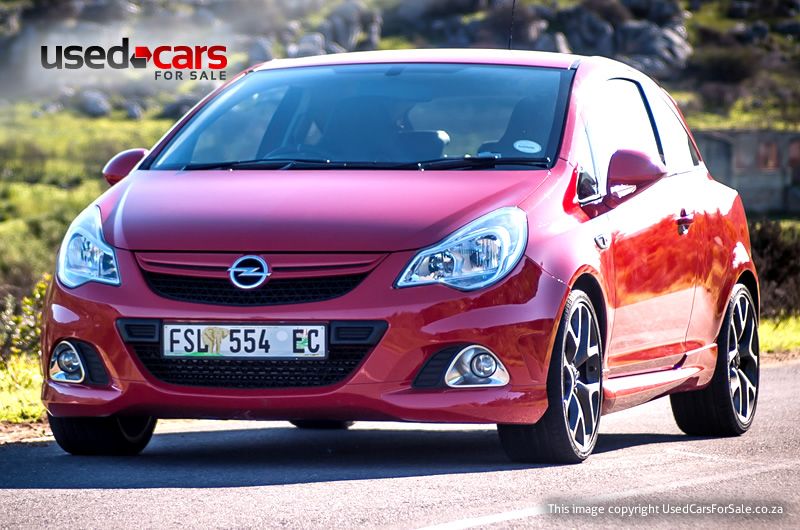 Opel Corsa Review: OPC Brings it on for Hot Hatchbacks
12 November 2013 - Shawn Jooste
Overview
More and more we're seeing hot hatches become the go-to car for the middle class seeking performance. They're cheaper to buy, cheaper to insure and maintain, yet traditionally have delivered significant enough thrill to get the masses to like them.

They come in various shapes and sizes, but generally they have smallish engines (sub 2.0-litre) treated to a healthy dose of turbo or super charging.

At the bottom of the range Opel have given us the Corsa OPC, which is the tuned performance version of the standard Corsa.

We gave it a bit of a thrashing to see what's what.

Performance
Powered by a 141kW 1.6-litre engine, the Corsa OPC dons the hot hatch badge just perfectly. But more than just specs on paper Opel have made sure that the OPC delivers on the hot hatch name badge.

You get the real feeling of this once you slide in behind the wheel. For a start, gripping the rather oddly shaped steering wheel lets you know you're in for a treat.

The ride is quite unforgiving, its ridged and hard, making ordinary road driving a bit tedious, but all's forgiven once you find yourself in a sweeping bend with your foot flat. Power gets delivered to the front wheels quite smoothy thanks to all the turbo trickery happening under the hood.
Economy
Economy is such a subjective thing to write about in a performance review. Sure, it's a 1.6-litre engine, and it's capable of a very respectable 7.5 L/100kms. But lets be honest, you're not buying an OPC for the economy.

The advantage you do have in a small engine, is that even in performance guise, the laws of physics dictate that it can only burn X amount of fuel. So in a 1.6 litre turbocharged engine, with the foot flat on the mountain you can only get up to about 11 L/100kms, and that's better than a V8 in comfort mode.
Tech
Tech inside the OPC is pretty basic. After all it's built on a cheaper consumer orientated car. You get basics like radio, USB, aux, some consumption and driving metrics on the little LCD screen on the dash and so on.

There isn't a Sat Nav system, and you're not treated to anything too outlandish.
Comfort
The lack of suspension adjustment settings means that Opel have had to setup the OPC for the optimal position. It's got to be manageable in day to day driving, but stiff and taught enough for some performance handling.

Normally these things sit on the fence, where the car isn't really great either way. The OPC definitely leans in on the performance side of things.

Day to day driving suffers a little, and sitting in traffic is a less than fun experience in the OPC. But once you escape the monotony that is your life, and you find a good driving road, the stiff suspension and heavy steering begin to make sense.

The OPC is quite grippy for a small car, the hunkered down suspension helps round corners, and sweeping bends.

After a couple of hours on the mountain, you're left with a smile on your face and the feeling that if you were to die, you could say you've lived.
Practicality
The Corsa is a smallish hatch, so straight out the gate you're not going to go huge on the practicality. You can get some kids in the back, or an adult for a short trip.

Boot space is a bit limited, but you'll get your gym bag in the back. The cabin up front is a little better, and feels quite roomy for a car this size.
Conclusion
Germany, and the quality shows through.

So if you're looking for a good quality fast hot hatch, then the OPC could be right up your alley.

It's a harsh ride as a daily drive, but makes up for it properly on any good driving road.

The design lets it stand out from the rest of the Corsa family, so you'll never have to worry about people thinking you're just in a 1.4 Corsa. More cars can be found by following the URL.