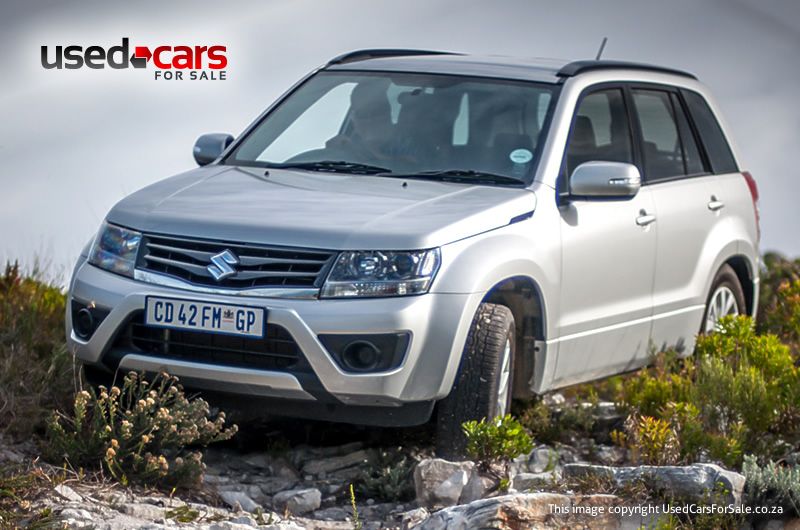 Suzuki Grand Vitara Review: The Dune Delivers
19 July 2013 - Shawn Jooste
Overview
The Suzuki Grand Vitara Dune. The names gives it away just a little. You're not likely to tag a sports car 'Dune' now are you? The Grand Vitara is a compact SUV with low range capability, so naturally we decided to take it off road and see if it's any good.

With a starting price of only R300,000 the Grand Vitara seems to be excellent value for the money, but can it compete with rivals like the Huyndai iX35, VW Tiguan, and Nissan X-Trail.

It comes in 4 flavours, of 2 variants. The Dune, and the Summit, in both manual and automatic.
Performance
The Grand Vitara comes with only one engine, regardless of the variant, and that's a 2.4-litre 4-cylinder, producing 122kW and 225Nm of torque. When driven like a normal car, on a normal road the Grand Vitara performs well, and is a very pleasant drive.

The steering isn't very communicative, which is livable on tarmac but somewhat disappointing off road.

If you leave the tarmac and head into the bush the Grand Vitara can be kicked into low-range mode, and handles most of the off road quite well. Clamoring over boulders is great fun, soft sand is easy to get through and in the Grand Vitara you'll find there aren't many places you can't go.
Economy
Economy varies quite considerably, and isn't as low as we would have liked it to be. Claimed is between 8.9 L/100km and 9.9 L/100km, but we got an average of 10.5 L/100km on the road, and that went quite a bit higher in the soft sand in low-range mode.

It's a fairly heavy car, weighing over 1600kgs, which also does some damage to the fuel economy.
Tech
Tech on the inside is pretty decent, the centre console has a nice layout, it's elegant and smooth, with all the knobs in the right place. Automated air conditioning, a good radio, ABS, it's pretty much a full house in the Grand Vitara.
Comfort
The Grand Vitara is well built, and a comfortable drive. The good quality interior makes it a pleasant place to be. Permanent All-Wheel drive gives the car a lot a stability on slippery or unstable surfaces.

There are 3 basic settings to the All-Wheel drive system. 4H allows the car to manage the torque split between the front and rear axles, which is what allows the car to be smooth and comfortable on the road. Then the 4H-lock gives an even traction split between front and rear axle giving the car off road capabilities. The 4L, which is low-range, ensures low end traction and allows the real off road fun to begin.
Practicality
The Grand Vitara is spacious for a compact SUV. With the rear seats up there is 400L of boot space, and almost 1000L more if you fold the rear seats down.

Keep them up, and you'll comfortably get 3 adults in the back, and the kids are guaranteed enough space to play in.

In the front there is loads of space thanks to an intelligent layout. The Grand Vitara works well in all kinds of situations. It's useful as a soccer moms car, running kids back and forth, and quite easily becomes a solid off roader for a family holiday.
Conclusion
The compact SUV market is getting more and more competitive and just about every manufacturer has an offering in this segment. So it's essential that they stand out to be noticed. The Grand Vitara's party trick definitely is the low-range capability. While it's not a Land Rover, and there probably are some places you'd rather not take the Grand Vitara, you'll be pleasantly surprised at what it's capable of.

The pricing is pretty solid too, starting at R300,000, there aren't a lot of cars on the market that can compete with the offering. It's also a Suzuki, and they build good engines.

You'll get a 3 year / 100,000km warranty, and a 6 year / 90,000km service plan, which is a years worth of extra service plan that another manufacturer won't give you.

If you're in the market for a compact SUV and have an active lifestyle the Grand Vitara should be a consideration in your shopping around.